Security Against Piggybacking and Tailgating Can be a Fragile Illusion
Doorlocks and access controls are the usual means for protecting people and building assets, but two simple actions completely defeat every security measure:
FIRST is in the simple act of holding a secure door open, often out of politeness.
SECOND is being unknowingly followed through a secure door by unauthorized persons.
These actions are termed "piggybacking" and "tailgating" respectively, and 99 percent of all access control systems, regardless of the technology used, are vulnerable. Some building users seek to control people and protect building assets, at considerable cost, by having guards monitor entry points in person, or in remote stations.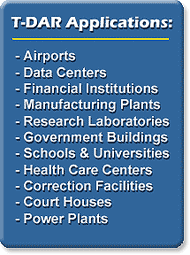 The Unique Newton Stereo Vision Solution
Only one stand-alone technology prevents piggybacking and tailgating - the patented, stereo vision T-DAR® system (Tailgate Detection Alarm and Recording System) by Newton Security Inc.
The unique T-DAR solution combines stereo vision and sophisticated software to specifically and reliably discern between a human and non-human objects, such as carts, parcels and luggage, then tag and track the person within the scanning zone.
Deterrence and Prevention
T-DAR uses three-dimensional optical imaging to expose piggybacking and tailgating attempts. Newton Security manufactures T-DAR systems for two types of applications: secure doorways and high-security mantraps
T-DAR secure door systems provide a highly-effective level of detection and deterrence against piggybacking and tailgating. This system is superior to combinations of card readers and magnetic locks alone, but offers less protection than the total solution found with T-DAR equipped mantraps. T-DAR door systems can be installed on single or double doors, as well as swinging, sliding and folding doors.
When T-DAR is used in conjunction with physical barriers, such as security portals, mantraps or reinforced revolving doors, the system prevents these intrusions if they occur. The system sounds an alarm, sends an alert to building security and can record the event with digital video. LEARN MORE