Effective Human Detection and Tracking Security Using Machine Vision
Newton Security Inc. is an engineering and manufacturing firm that develops and markets advanced, human detection, tracking and counting systems based on machine vision and sophisticated software.
The adaptive technology built into Newton products is specifically designed to detect, deter or block tailgating and piggybacking into restricted areas, or to monitor the number, position, motion and direction of one or more individuals within industrial, commercial, public or cultural settings.
Anti-Tailgating Systems for the Real World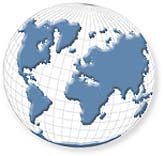 The world's largest supplier of machine vision tailgating/piggybacking detection systems
Providing security on every continent except Antarctica
The benefits and flexibility in Newton Security products are not centered exclusively in the hardware, but rather in the software built upon proprietary algorithms designed to detect and track people in the ways they normally look and move. Newton anti-tailgating systems do not require special lighting or separate, specific zones for standing and scanning and another for carts or luggage.
The security in Newton Security products is based on the accuracy and speed of the patented T-DAR® machine vision software and with its capability to seamlessly integrate with the hardware and software of other manufacturers such as: access control systems, audible alarms, video recording devices and electronic interlocking doors. This adaptability gives owners and integrators greater latitude where a Newton system may be deployed with the greatest effect and least architectural impact.
A Continuum of Detection Security
The Newton Security product line delivers scalable levels of protection ranging from basic single-person entry detection and alarm, to the highest precision of detection and entry prevention. Newton Security anti-tailgating and anti-piggybacking products reduce or eliminate the violations enabled by hurried, inattentive or overly courteous employees, or by clever or brazen "social engineering" intruders. Everyone is required to identify themselves and if approval is not granted the detection system will respond with alarms, electronic reporting and, depending on the product, recorded warnings and lockout.
PRODUCT
PROTECTION LEVEL
T-DAR Mantrap Shield Series

Highest level of anti-tailgating and anti-piggybacking detection in an airlock / mantrap / portal application.

T-DAR Lobby Shield Series

Delivers high level anti-tailgating and antipiggybacking detection for entry foyers, vestibules and lobbies

T-DAR Door Shield Series

The only technology with precise anti-tailgating detection and alarming/recording for single or double doors.

T-DAR Entry Vision

Single door, frame-mounted basic anti-tailgating detection system